CITIZEN opens refurbished boutique at Qurum City Centre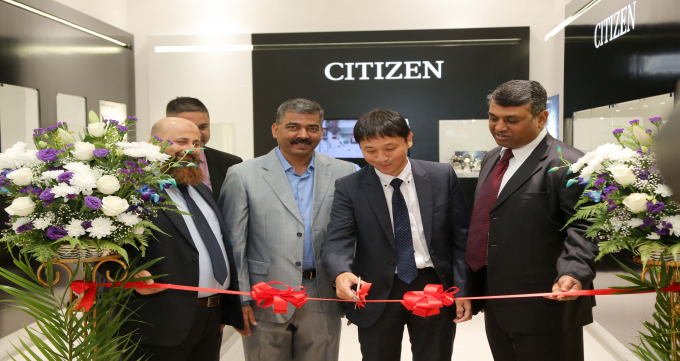 CITIZEN watches have announced that their exclusive boutique in Qurum City Centre is now open with a refreshed new look, following a period of renovation. The renovation is in line with the Japanese brand's strategic expansion plans for the Middle East region.
 
CITIZEN, which has gained renown for its cutting edge watch design and technology, is looking at further growing its footprint in the region by reaching out to customers right where they are located and presenting them with an enhanced visitor experience.
 
"The retail experience has become an important part of watch sales, customer expectations from the brand keeps increasing and we at CITIZEN pride ourselves in not just producing exceptional watches but also in providing an unparalleled world class shopping experience to our customers," said Mr. Keiji Kato, General Manager of CITIZEN Watches Gulf.
 
Speaking at the inauguration of the refurbished outlet, Mr. Ajay Ganti, CEO of Al Seeb Technical Establishment (Sarco) said: "Sarco has always taken the lead in aligning themselves with the brand's direction, that's why when CITIZEN decided to foray into retail, Sarco was the first to open an exclusive CITIZEN boutique in the Middle East and today we are proud that we are among the first to renovate this very first boutique with the new look and feel."
 
The boutique is situated in a high-footfall area in Qurum City Centre, which is one of the Omani capital's most popular shopping destinations. Visitors to the all-new boutique will be able to get an up-close look at many of the brand's iconic watches, including the CITIZEN GPS Satellite Wave, which is the world's fastest satellite signal receiving watch for accurate timekeeping.
 
About CITIZEN WATCH
CITIZEN WATCH is a true manufacture d'horlogerie with a comprehensive manufacturing process that extends from creating a watch's individual components to its final assembly. The company operates in more than 100 countries around the world. Since its founding in 1918, CITIZEN have held the belief of "Better Starts Now" — that is, no matter who you are and what you do, it is always possible to make something better, and now is the time to start doing it. Sharing this belief, we have made watches, invented and improved technologies and explored the future of watches such as our propriety light-powered technology Eco-Drive and state-of-the-art satellite-synchronised timekeeping.